Excursions in Belize and Guatemala
The Pine Ridge District
January 2011
Click on any image for a larger view;
Contact garya at this domain if you would like the high quality image for printing
In 1998, when I first went to Belize, we chartered a sailboat on Ambergris Cay. We had to abandon the boat after the first day because hurricane Mitch was about to clobber Belize City and us. Rather than evacuate the country, we headed up into the Pine Ridge District and spent the week at what was then Hidden Valley Ranch in the rain, exploring the jungle and taking a trip to Tikal. One of the things we didn't go see because the roads were in horrible condition, was Hidden Valley Falls, more popularly known as the "1000 foot falls".
The falls is actually close to 1600 feet tall, and is the highest waterfall in Central America. This was one of the reasons I wanted a 4wd car for this trip. It was now the dry season, so we got some directions and headed off. Our trip was interrupted by a bunch of Coatimundis crossing the road.
| | |
| --- | --- |
| | |
| Coatamundi | Coatamundi |
We made it to the overlook for the falls and had lunch in the shade. There is a caretaker / moneytaker there, and we asked him where the trail to the bottom was, as I had read you could hike down and go for a swim. He told us there was no trail. After I pestered him he allowed as how there used to be a trail, but it had not been maintained for many years. He was not interested in showing us where the old trail was, or in talking about it. As nearly as we could figure out, it was last used in 1993. We really wanted to hike down, but didn't really want to bushwack through the jungle. Bummer.
1000Ft Falls
1000Ft Falls
Pine Ridge 1000Ft Falls
Photo by Dona
While wandering around near the falls, we ran into these cool plants, or plants with cool parasite eggs, or something, on their leaves. They reminded me of artwork made of tin where the artisan punches holes in the tin to make a design.
| | |
| --- | --- |
| | |
| Xxx Plant | Xxx Plant |
Flower Xxx
Photo by Dona
Flower Xxx
Photo by Dona
It was discouraging to drive around the Pine Ridge area. When I was up there ten years ago, most of it was, or appeared to be, still mature, diverse, pine forest. Since then much of it has been devastated by commercial logging, with the associated massive erosion and runoff. The roads are poorly built with little erosion control, and the number of trees left in a logging operation is pitiful in terms of sustained forest health.
| | |
| --- | --- |
| | |
| Slaughtered Forest | Slaughtered Forest |
| | | |
| --- | --- | --- |
| | | |
| Typical Pine Ridge Road | Pine Ridge Road | Pine Ridge Road |
We had heard of a nice waterfall / swimming hole called "Big Rock," so we asked around to find out where it was and how to get there. It was amazing -- many of the people had barely heard of it, and none of them had a very good idea of how to get there. We asked one guy and he said go "that way," pointing up the road in one direction. So we went that way for a while and then asked another guy, who pointed back the opposite direction. So we followed our nose and eventually found it. It was well worth the effort.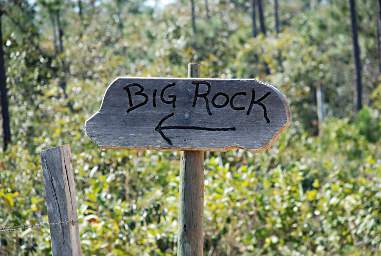 It's Definitely This-a-Way
| | |
| --- | --- |
| | |
| Trail to Big Rock | Trail to Big Rock |
| | |
| --- | --- |
| | |
| Big Rock Falls | Below Big Rock Falls |
| | |
| --- | --- |
| | |
| Big Rock | Is that a perfect Swimming Hole? |
| | | | |
| --- | --- | --- | --- |
| | | | |
| Sid | Sid & Dona | Sid & Dona | Sid & Dona |
| | | |
| --- | --- | --- |
| | | |
| Sid & Dona | Sid & Dona | Sid & Dona |
Gary
Photo by Dona
Sid
Photo by Dona
Always on the lookout for critters, we found a lizard and a spider.
Even at a nice place like Big Rock, the intensive logging of the pine forest was not far away. It's evident in the background of the photo on the right below.
Of Course!
Signs where we don't need them!
Duh.
Big Rock
Photo by Dona
After cooling off at Big Rock, we were hungry! We stopped at the Five Sisters Resort, hoping the restaurant would be open, but the whole place was closed between the Christmas / New Year's crowd and their high season which started in February. We found our way up the road a bit to a place called Blancaneaux, a fancy Francis Coppola resort. It reminded me of some of the places I had stayed in Bali, out of my price range which I was able to enjoy because of a friend. While we didn't feel like we could afford to stay there, we did enjoy a look around and an outstanding meal. They serve organic food from their own garden. As they say in the tour guides, "Highly Recommended."
Japanese Lantern-Like Flower Xxx
Photo by Dona
Japanese Lantern-Like Flower Xxx
Photo by Dona
View from Blancaneaux Lodge
Blancaneaux
Photo by Dona
It may be a Hamburger,
but it's a Dang Good One!
Gary and Sid at Lunch
Photo by Dona
Colorful Flowers and Adornments
Photo by Dona
Blancaneaux
| | |
| --- | --- |
| | |
| Blancaneaux | Blancaneaux |
Blancaneaux
Photo by Dona
Blancaneaux
Photo by Dona
Then we wound around until we found our way back to San Ignacio. There is a large Mennonite farming community in this part of Belize, and on the way back we passed a couple of horse-drawn carts. They had some pretty nice looking horses, something you don't see often in Central America.
| | |
| --- | --- |
| | |
| Horse Cart | Horse Cart |
We checked out of our cabins and headed towards Placencia to do some sailing and snorkeling .
---