Excursions in Belize and Guatemala
The Baboon (Howler Monkey) Sanctuary
January 2011
Click on any image for a larger view;
Contact garya at this domain if you would like the high quality image for printing
It's a pretty good distance, at least time-wise, from Cockscomb to the Community Baboon Sanctuary. There isn't much for restaurants at the Baboon Sanctuary, so we stopped in a restaurant outside of Belmopan to have dinner. On the last leg of the drive they were doing some road work, and we had to slow to a crawl. A car coming the other way threw up a rock which hit the driver's side window of the car and shattered it. So much for locking the car on the rest of the trip...
| | |
| --- | --- |
| | |
| Belmopan Restaurant | Sid and Dona |
We got to the sanctuary after dark; fortunately, we had previously arranged for a cabana run by some locals to stay in. We had originally planned to do a night canoe trip to look for crocodiles, but we were too tired and just crashed. The cabana was supposed to have a hot shower, but it wasn't. Ugh. The only reliable hot shower on the whole trip was the sun shower on Malakii.
| | |
| --- | --- |
| | |
| Howler with Kid | Howler |
One of the best things to do at the Baboon Sanctuary is to take a canoe trip down the Belize River. You're sure to see lots of wildlife, especially large Iguanas.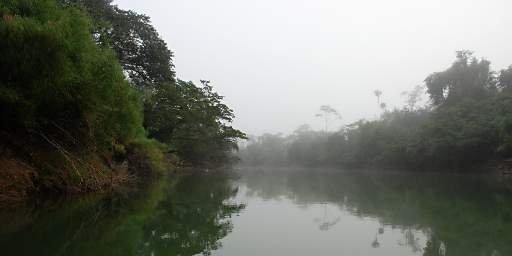 Belizeriver
| | |
| --- | --- |
| | |
| Kingfisher | Vulture |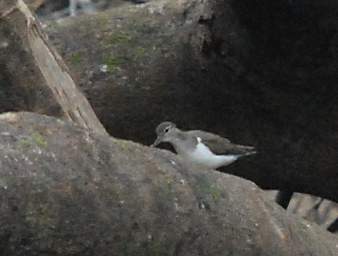 Xxx Bird
| | |
| --- | --- |
| | |
| Iguana | Iguana |
| | |
| --- | --- |
| | |
| Iguana | Iguana |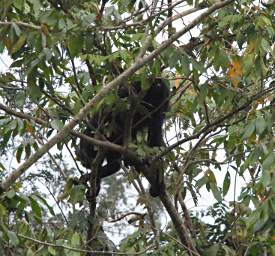 Howler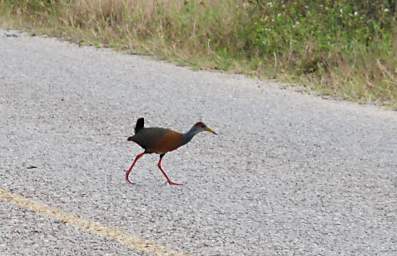 Grey Necked Wood Rail
We had to get Sid to the airport for his afternoon flight, so we headed off and said goodbye. Then we reversed the trip and drove back to Placencia, where we had arranged to drop off the rental car.
The plan was for Dona and me to spend some time sailing around Belize and relaxing, but it didn't turn out that way, as we found out on our return to Placencia.
---